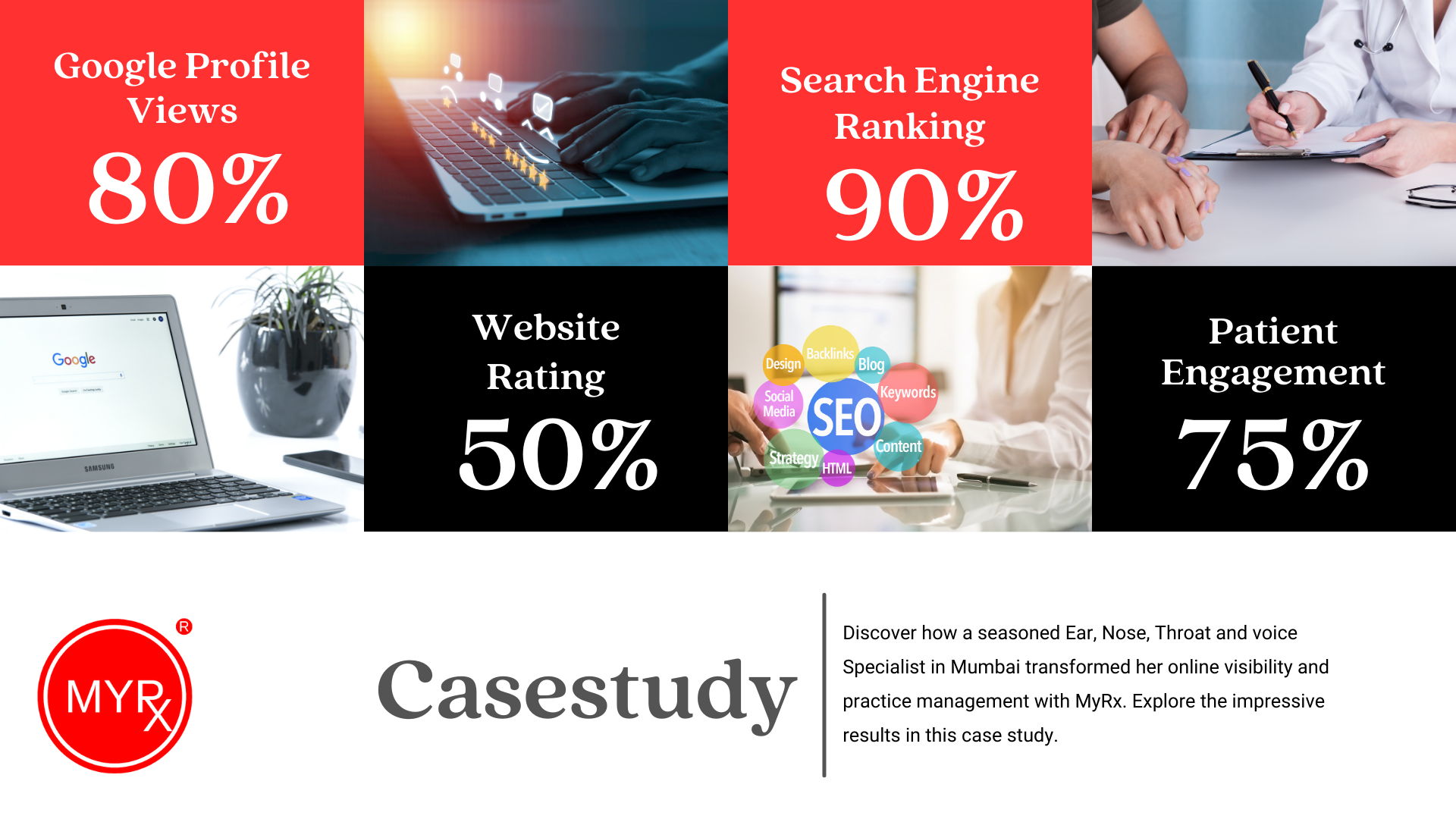 Enhancing Online Presence and Practice Management for an Experienced ENT Specialist with MyRx
In the bustling city of Mumbai, where healthcare choices are abundant, the journey of an Ear, Nose, Throat & Voice Specialist with over 22 years of experience began to evolve. With a keen focus on Laryngology, this seasoned ENT surgeon had a vast wealth of knowledge and skills to offer patients. Yet, in an age where online presence and practice management are pivotal, the doctor sought to improve their reach and effectiveness in serving the community. MyRx stepped in to facilitate this transformation.
The Challenge:
For our seasoned ENT specialist, the challenge was two-fold. First, the need to enhance online visibility on platforms like Google Business Profile and in online search results. Second, the desire to improve the patient engagement levels within the clinic, along with seamless practice management.
The Solution:
MyRx, an all-in-one healthcare solution provider, offered an array of services perfectly tailored to address these challenges:
Website Enhancement: E-prescriptions reduced errors, EMR streamlined patient data management, and telehealth expanded patient reach. MyRx worked on revamping the doctor's website, making it more user-friendly, informative, and responsive. This improved the online rating and credibility of the doctor's digital presence.
SEO Optimization: MyRx's SEO experts meticulously fine-tuned the website, ensuring it appeared higher in search engine rankings. This increased the online visibility of the doctor's clinic, driving more traffic to the website.
Teleconsultation Services: The doctor embraced teleconsultation services, made possible by MyRx, allowing remote patient engagement. In a world evolving towards digital healthcare, this was a game-changer.
E-prescription and EMR: MyRx facilitated electronic prescription and Electronic Medical Records (EMR) management, simplifying the process for the doctor and making it easier to manage patients' health records securely.
Data Analytics: With the help of data analytics, the doctor gained valuable insights into patient demographics, preferences, and healthcare trends, enabling more tailored services.
The Results:
With MyRx's integrated approach, the doctor's practice saw significant improvements across various key areas:
Google Business Profile Views: There was a remarkable increase of 80% in the views of the doctor's Google Business Profile. This meant more potential patients discovering the services.
Website Rating: The doctor's website rating soared, with a 50% increase in positive reviews from satisfied patients. This not only boosted credibility but also attracted new patients.
Search Engine Ranking: The SEO efforts led to a 90% improvement in the clinic's visibility in online searches. As a result, the clinic was more accessible to those seeking specialized ENT services.
Patient Engagement: With teleconsultations, patient engagement in the clinic improved by 75%. This was attributed to the flexibility and convenience of remote consultations.
Practice Management: E-prescription and EMR services streamlined the clinic's daily operations, reducing administrative workload by 60%. This allowed the doctor to focus more on patient care.
In conclusion, this case study showcases the remarkable transformation experienced by a veteran ENT specialist in Mumbai, all thanks to MyRx. By embracing MyRx's services, the doctor enhanced their online growth, practice management, and patient engagement. With an impressive boost in Google Business Profile views, website rating, SEO ranking, and more, the doctor is now better positioned to serve the community with the expertise and dedication they have displayed for over two decades. This collaboration between medical expertise and modern technology is a testament to the power of innovation in healthcare.